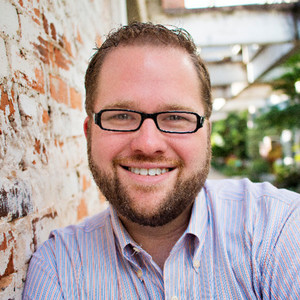 Daniel Roberts
Special guest
Daniel Roberts is the founder of Friendly Human, a video and media agency created around the idea that well-directed, authentic passion is the key to compelling storytelling. Through specialized direction and editing, Daniel and his team at Friendly Human help people and organizations find and tell their story in remarkable ways.
Daniel is known for his ability to tell stories that help brands relate to customers while also creating a company culture that is extremely sought after. Daniel has won awards from the American Marketing Association, directing a feature length documentary called RHINO MAN, creating the Friends & Fables series of events, and traveling to 40+ countries. He has also interviewed thousands of people in his life, from WWII vets who stormed Normandy and CEOs of Fortune 500 companies to a former U.S. President.
In his spare time he loves traveling abroad with his wife, Sarah (their goal is to eat a local meal in every country), creating new cocktails in Friendly Human's bar (he bought a centrifuge to make better drinks), and speaking to audiences about marketing innovation and company culture.
Daniel Roberts has been a guest on 1 episode.
October 5th, 2018 | Season 1 | 27 mins 49 secs

business, ceo, documentary, entrepreneurship, founder, interview, investor, small business, start a company, startup, technology, work

In this episode, Sanjay and Daniel chat about company culture, how Friendly Human got their name, the story of Rhino Man, and more.